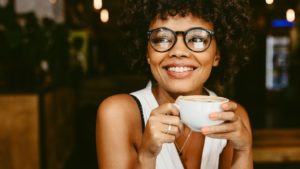 Coffee is among the most popular beverages in the world, with countless individuals depending on it to help them get their day started each morning. If you enjoy coffee, and you have a degree of dental misalignment, you may have a question weighing on your mind — "Can I drink coffee with Invisalign in Needham?" The answer is yes! Read on below to learn how you can partake of this delicious beverage without adversely affecting your orthodontic treatment.
Remove Your Aligners
Invisalign should never be in your mouth while you are drinking coffee for three significant reasons:
Coffee tends to be dark in color, which means it has the potential to stain your aligners and cause them to lose their subtle, discreet appearance.
Your coffee, along with any sugar or cream that you put in it, might sneak into your aligners and get trapped against your teeth. This can increase your risk of dental problems.
Most people drink hot coffee. Unfortunately, the drink's high temperature could warp your aligners and cause them to lose their ability to effectively move your teeth.
Fortunately, clear aligners are easy to remove, so you can take them out of your mouth, enjoy your java, and then resume wearing your Invisalign.
Do Not Linger over Your Coffee
Do you like to pour your coffee into a thermos and sip on it continually throughout the day? If so, you should adjust your habit while you are wearing Invisalign in Needham. Frequently removing your aligners to drink coffee could significantly cut into your Invisalign wear time, perhaps even compromising your ability to keep it in your mouth for the recommended 20 – 22 hours each day. Try to take your coffee at the same time that you eat breakfast, and do your best to finish consuming it within 15 – 30 minutes.
Brush and Rinse after You Finish
After you finish your cup of coffee, do not put Invisalign back in your mouth right away. Instead, gently brush and floss your teeth. You should also thoroughly rinse both your mouth and your aligners. Your diligence with oral hygiene will prevent acids in the coffee, as well as any sugar that might have been added to it, from lingering on your teeth or accumulating in your Invisalign trays.
Cut Back on Sugar
Coffee, cream, and sugar make a delightfully tasty combination. Unfortunately, sugary coffee beverages pose a danger to teeth, particularly if the sugar gets trapped in your aligners. You can reduce the risk that your daily cup of joe presents to your smile if you try to drink it black or with minimal add-ins.
Your Invisalign treatment may cause you to adjust your coffee-drinking habit. However, you will not have to give up your favorite beverage altogether.
Meet the Practice
The team of five dentists and specialists at Gillis Dental is happy to offer Invisalign as one of our many advanced services. We pride ourselves on providing treatment in a welcoming, efficient, and courteous environment. To learn more about how we may be able to help you straighten your teeth, contact us at 781-202-6357.