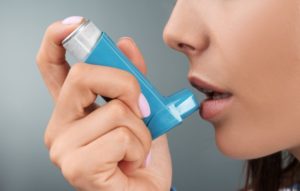 Asthma is a serious respiratory condition that affects roughly 235 million people around the world. If you are part of that group, you may be all too familiar with the struggles that are an inherent part of not knowing when you will suddenly find it difficult or impossible to breathe. Unfortunately, research has unveiled another serious problem that asthma can contribute to — an increased risk of poor oral health. This article explores why that is the case and offers practical guidance on how you can protect your teeth and gums.
Asthma and Poor Oral Health
An analysis of several research papers from the 1970s through the 2010s revealed that people with asthma are almost 19% more likely to suffer from periodontitis (the advanced form of gum disease). Without proper treatment, gum disease can lead to tooth loss, chronic bad breath, and a number of systemic health conditions.
What is the reason for the correlation between gum disease and asthma? It may boil down to the fact that asthma sufferers are more likely to suffer from dry mouth. During an asthma attack, you may labor to breathe through your mouth, which can dry up saliva. The medications in inhalers can also cause dry mouth. Without adequate saliva, bacteria can flourish in the mouth, collecting along the gumline and leading to infection. Dry mouth is also associated with an increased risk of cavities.
Lower Your Risk by Avoiding Triggers
You may be able to protect your oral health by avoiding asthma triggers to the extent possible. Of course, some triggers — such as certain environmental conditions — are difficult or impossible to steer clear of. Other triggers, though, can be reduced. For example, if pet dander or dust tend to cause asthma flare-ups, you may want to adjust your home cleaning routine. If you smoke, or if you are often in close contact with someone who smokes, reducing your exposure to cigarettes may prove to be very helpful.
Caring for Your Oral Health
In addition to managing your asthma triggers, focusing on oral hygiene can also lower your risk of gum disease. Here are a few tips for maintaining a clean mouth:
Drink plenty of water. This fights dry mouth and encourages saliva production.
Brush twice a day and floss once a day. If you are unsure about proper brushing and flossing techniques, your dental hygienist would be happy to coach you.
Visit your dentist regularly. You should attend a cleaning and checkup at least once every six months. If your dentist sees any early signs of gum disease, they may be able to provide treatment before the problem becomes serious.
Asthma increases your risk of oral health problems, but it does not have to wreck your smile. A few simple precautions can help you breathe better and lower your chances of developing gum disease.
Meet the Practice
The team of doctors at Gillis Dental provide comprehensive dental services to the Needham community. If you are concerned about gum disease or how your asthma may be affecting your oral health, they would be happy to consult with you. Contact our office at 781-202-6357.