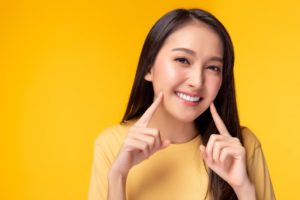 A bright white smile is an attractive feature. Unfortunately, teeth can become discolored over time, and so can dental bonding. While it is relatively easy to brighten natural dental enamel, you might wonder if it is just as simple to whiten bonded teeth. Unfortunately, the answer is no. While it is possible to brighten bonding teeth, doing so requires some time, effort, and professional assistance. This blog post discusses what you can do to achieve your desired tooth color.
Dental Bonding Does Not Respond to Normal Whitening
Normal teeth whitening treatments work by penetrating the tooth enamel and breaking up pigment molecules. This process is possible because dental enamel is naturally porous and allows the bleaching agent to eliminate discoloration within the teeth.
Dental bonding is composed of a resin whose structure is different from that of natural enamel. Hence, if you use a normal whitening treatment, you may notice that your unbonded teeth quickly become brighter. However, your bonded teeth will likely remain the same color, resulting in a mismatched smile.
Options for Whitening Bonded Teeth
Since a mismatched smile is generally regarded as undesirable, you will need to take a few extra steps to make sure all of your visible teeth are the same color. There are essentially two ways to whiten bonded teeth:
Replace the bonding. After you whiten your natural teeth, you can ask your cosmetic dentist to remove the resin from your bonded tooth. Then, they can re-do the bonding process, using a resin that matches the color of your whitened teeth.
Invest in a veneer. Following a whitening treatment, your dentist may recommend that you have the old resin removed and replace it with a veneer. Veneers are a more permanent treatment than bonding, and they are made out of a non-porous porcelain that is incredibly resistant to stains. The process for placing one requires a few dental appointments, but many patients believe that the time and effort are worth it.
Achieving Your Desired Results
It would be best to talk to your dentist about your cosmetic options before you attempt any sort of whitening. They may recommend that you opt for a professional whitening treatment because it can produce more dramatic results than over the counter products. Plus, your dentist will be able to assess the health of your teeth to ensure that it is safe for you to pursue purely cosmetic treatments. After your teeth reach the desired shade, your dental team can schedule you for either a new bonding procedure or a veneer.
Whitening your bonded teeth requires professional assistance. However, it is possible, and it is usually not complicated. In just a few dental appointments, you may have a whiter, more confident smile.
Meet the Practice
The general dentists and specialists at Gillis Dental are proud to offer a comprehensive range of cosmetic services, including bonding, veneers, and professional whitening. If you are interested in enhancing the appearance of your teeth, we would be happy to assist you. Contact our office at 781-202-6357.