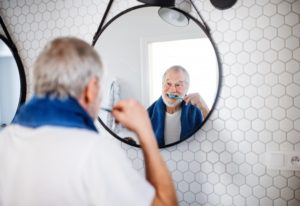 Will you receive implant dentures in the near future? You have a lot to look forward to! You will be able to enjoy an attractive smile, the ability to eat all of your favorite foods, and many other benefits. Before you can truly experience all the advantages of your prosthetic, however, you will have to take some time to get used to it. This blog post discusses what you can expect while you are adjusting to implant dentures.
Start with Soft Foods
Implant dentures are durable and stable, so you should feel free to eat all of your favorite foods — but only after you get used to eating with them. At first, it would be best to eat soft foods. This is especially important if you have an immediate load implant denture, such as an All-on-4 prosthetic. Foods like pasta, scrambled eggs, smoothies, and other items that require little to no chewing are good choices. Once your mouth feels normal, you should be able to start enjoying a wider variety of foods.
Practice Speaking
Clear speech is dependent on complex interactions between the tongue and teeth. Therefore, you can expect your implant denture to have a positive impact on your pronunciation. At first, though, you might have a little lisp. Reading out loud or simply talking with your family as much as possible can help you get used to speaking with your implant dentures and work out any small speech abnormalities that they might cause.
Expect Some Extra Saliva
Any type of denture is a foreign object in the mouth, so it is normal for patients to experience excess saliva production and drool. For most people, this issue goes away fairly quickly. In the meantime, drinking plenty of water can help to wash away the extra saliva.
Establish Good Habits
Caring for an implant denture is pretty simple in most cases, but it will require that you make some adjustments to your normal routine. For example, if your denture is removable, you may have to take it out of your mouth at least once a day for a thorough cleaning. If it is not removable, it is extra important to clean along its base.
Ask Your Dentist for Help if Necessary
The dentist who provides your implant denture wants you to love your prosthetic. You should feel free to reach out to them with any questions you have about your new teeth. This is especially important if you think that your denture does not fit correctly or it has suffered damage.
For the most part, implant dentures take less time to adapt to than their non-implant prosthetics. Hopefully, your new teeth will soon feel like they have always belonged!
Meet the Practice
Gillis Dental is home to a team of general dentists and specialists who work together to provide comprehensive dental implant and denture services. If you would like to learn more about implant dentures, they would be happy to speak with you. Contact our office at 781-202-6357.