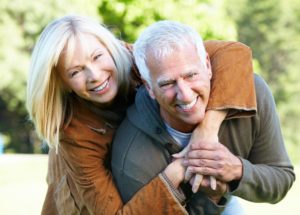 Conventional dentures take a notoriously long time to adjust to. Some patients struggle to get used to them for weeks or even months before they feel comfortable with their prosthetic. Is adjusting to implant dentures any different? Thankfully, yes. This brief blog post discusses what you can expect when you first get your implant denture and how long it may be before your new teeth feel like a natural, normal part of your everyday routine.
How Long Is the Adjustment Period?
Every patient is unique, so there is no way to predict how long it will be before you get used to your implant dentures. For most people, though, it is not long at all before they start to feel comfortable with their prosthetic — in as little as a few days or a few weeks, you may get the hang of eating and speaking with your denture. It might take you slightly longer if you were missing teeth for a long time, but that will not necessarily be the case.
What Happens During the Adjustment Period?
Here are a few notes on what might happen as you get used to your new denture:
Extra saliva production. Your denture is a foreign object in your mouth, so a bit of extra saliva production at first is normal.
Speech adjustments. After you get used to your dentures, they will likely help your speech, enabling you to make clear, crisp sounds. In the meantime, though, you might have a slight lisp.
Learning to eat. Implant dentures are sturdy enough to stand up to most foods, but you should not dive right into eating chewy meats and raw vegetables. Stick with softer foods until you are used to using your prosthetic.
Gum tenderness. A bit of soreness in the gums is normal, but it should be milder than what you would experience with conventional, non-implant dentures.
Inserting your denture. Some implant dentures are permanently fixed in the mouth, but others snap onto and off of small attachments. If yours is the latter kind, it might take a few days for you to learn how to easily take your denture in and out of your mouth.
Turn to Your Dentist for Help
You can always call your dentist if you run into any questions or concerns while you are learning to integrate your new teeth into your daily routine. Contacting them is especially important if you notice any unusual or severe problems with your denture. For example, extreme pain or discomfort, or a denture that does not seem to fit right, indicate the need for professional assistance.
Adjusting to implant dentures is a relatively easy and quick process. Hopefully, they will feel like your natural teeth in no time at all!
Meet the Practice
The dentists and specialists at Gillis Dental are proud to offer comprehensive dental implant services, including various types of implant dentures. If you are curious about your tooth replacement options, they would be pleased to speak with you. Contact our office at 781-202-6357.