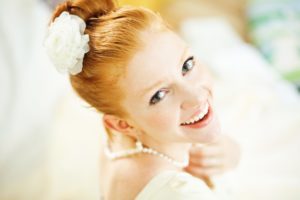 Do you have a special event coming up? Whether it is a wedding, a job interview, a vacation, or even your high school reunion, you likely want to look your best. Hence, you may be thinking about whitening your teeth. But when should you do it? This blog post discusses the answer to the question, "How close to an event should I whiten in Needham?"
How Long Does Whitening Take?
Exactly how long whitening takes depends on the exact method you choose to brighten your smile. In general, whitening treatments fall into two categories:
At-home whitening. This can involve the use of a professional kit from your dentist or an over the counter product. Optimum results are usually achieved after two weeks or so.
In-office whitening. Your dentist may offer a fast in-office whitening service that can brighten your teeth by several shades in just one hour or so.
Plan Ahead and Leave Some Wiggle Room
Here are a few key points to keep in mind when you are scheduling your whitening treatment:
Plan ahead. Your dentist may be busy, so you should call well ahead of your desired whitening time to secure a desirable appointment slot.
Do not whiten immediately before your event. Your teeth may be extra-sensitive for a few days after you whiten them. Plus, in-office treatments require that you stick to a "white diet" for 48 hours or so after your appointment. If you want to fully enjoy any food that may be available at your upcoming event, you should complete your whitening at least a couple weeks beforehand.
Leave some wiggle room. If you plan to try over-the-counter whitening products, you should test them out well before your event. They are not as strong as professional options, so their results may not be what you hope for. If they do not give you the look you want, you should leave some time open in case you need to visit your dentist to ask about your options for reaching your smile goals.
Maintain Your Results
Teeth naturally incur stains over time, and since you should complete your whitening at least a few weeks before your event, it is important to protect your results in the meantime. To do so, you should:
Avoid tobacco use
Minimize your intake of coffee, red wine, and other dark beverages
When you do drink dark beverages, enjoy them through a straw
Cut back on highly pigmented foods, such as berries, tomato sauce, and red meats
Stick to a thorough oral hygiene routine
It takes a bit of planning to ensure that your teeth look their best during special events. Hopefully, the information in this article will help you choose the ideal time to whiten your smile.
Meet the Practice
The team of experts at Gillis Dental in Needham are proud to offer a range of cosmetic dentistry services, including both in-office whitening and take-home whitening kits. If you are ready to find out if we can help you brighten your smile in time for your next event, contact us at 781-202-6357.