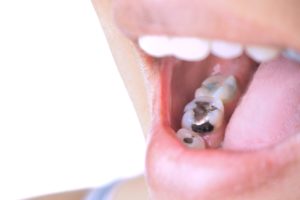 Do you have metal dental fillings? For many decades, they were the go-to method for addressing mild to moderate tooth decay. While they have their benefits, such as strength and durability, they also have some big drawbacks. In fact, it is worth it to seriously think about getting them removed. When you replace metal fillings with their modern, tooth-colored counterpart, you can expect to experience some significant benefits, including the following:
Improved Health
Metal fillings are made out of a material called silver amalgam. Amalgam is composed of roughly 50% mercury, which is known to be a toxic substance. While many people believe that the fillings are safe, a study published in 2016 paints a very different picture. It revealed that patients with eight or more metal fillings are at risk for elevated levels of mercury in their blood. The study accounted for other potential sources of mercury exposure, such as seafood consumption, and still found that fillings are a significant cause of heightened blood levels of this toxic substance.
Some patients with fewer than eight fillings have even suffered adverse symptoms that they attribute to their dental work. For example, they might experience headaches, tremors, and other neurological issues.
Tooth-colored fillings contain absolutely no mercury. They are largely considered to be safe for use within the human body, so they are a viable replacement for toxic metal restorations.
Lower Risk of Disease
Even if you are not currently experiencing any adverse effects because of your fillings, your health could still be at risk. A 2019 review of relevant data, published by the International Journal of Environmental Research and Public Health, found an association between metal fillings and some very serious health conditions, including multiple sclerosis and Alzheimer's disease.
A More Attractive Smile
Of course, your health is the biggest reason why you should ask your dentist if it is possible and advisable to remove your mercury fillings. Another significant reason relates to your appearance. Metal fillings are quite dark; they tend to draw a lot of attention to themselves. Modern tooth-colored fillings are shade-matched to blend in with the surrounding dentition. Once in place, they are virtually invisible, a fact that makes them an excellent option for image-conscious individuals.
Get Started with Filling Replacement
If you are ready to replace your metal fillings, talk to your dentist. They will evaluate the situation and plan your treatment. While they are removing your old restorations, you can expect them to take reasonable precautions to protect you from exposure to mercury vapor. After your new fillings are in place, you should be able to enjoy a healthier, more confident smile!
Meet the Practice
Gillis Dental is home to several general dentists and specialists, all of whom strive to provide top-quality care in a comfortable environment. Tooth-colored fillings are among the many services we offer in our practice. To learn more about us and how we may be able to help you reduce your health risks associated with metal fillings, contact us at 781-202-6357.